Total Vehicle Quality Starts with Genuine Ford Parts and Accessories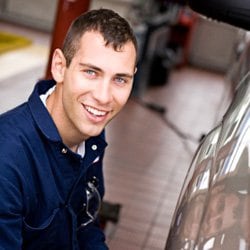 Opting for quality auto parts when making repairs is key in keeping your vehicle running safely, smoothly and for as long as possible. Many other auto body shops offer cheaper, less expensive auto parts, but choosing those poses the risk of them failing sooner and causing damage to your vehicle. When drivers from Berlin, Plainville, Glastonbury, East Hartford and Cheshire and surrounding areas choose Tasca Ford Berlin for auto parts and accessories, you can rest easy knowing that you're receiving quality parts that come straight from the manufacturer.
Making repairs with certified parts from the original equipment manufacturer means your vehicle is receiving the part it was originally designed to operate with, allowing for the best possible outcome. We proudly offer drivers from Plainville, Glastonbury, East Hartford and Cheshire and beyond the highest level of quality when it comes to car parts and accessories, and for affordable prices. You can inquire about any part your vehicle needs right here on our website, but we'll also be happy to speak with you in person. Whether you're looking for new tires, an exterior part, a new engine part, a new battery or anything in between, we can help. If we don't have the part right here at the dealership, we can quickly and easily order it for you. 
Order parts online today by submitting a form to our department; if you need basic parts like engine oil, oil filters, cabin air filters, cargo mats, all-weather floor liners, wiper blade replacements, all-season or summer tires, headlight bulbs, spark plugs, car batteries, or replacement mirrors, you can pick them up right at the desk when you visit our Berlin parts store.
Should you need assistance replacing, installing, or choosing auto parts, schedule an appointment at our service center; our brand specialists can do the work for you, so all you need to do is enjoy your customized ride. Feel free to contact us online or give us a call with questions or to place a special order.